Christmas is a time to be thankful for patient who received life-saving care at Heartlands
Published on 19/12/2021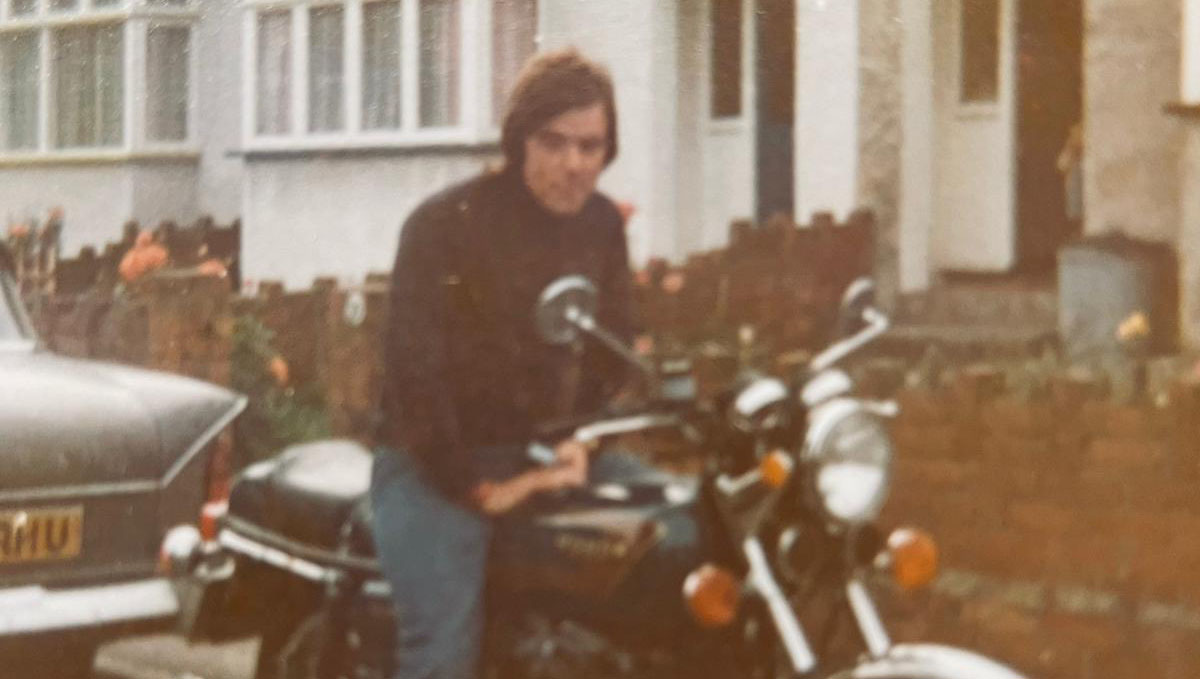 For Mike Rose, this time of year is a reminder of the kindness shown to him by staff over 40 years ago. Almost to this day in 1977, Mike was in a near fatal motorcycle accident which saw him knocked off his bike by a lorry and in intensive care at Heartlands following life-saving emergency surgery, then on an orthopaedic ward during his road to recovery. Christmas for many is a time to reflect and be thankful for what we have, and no more true than for Mike who, from spending that Christmas in hospital following a major trauma, will never forget the care he received at that time.
Mike went on to make a complete recovery and lives a full life, even still enjoying his passion for motor bikes. Recounting the story, Mike said:
"I was 23 years old in 1977, living in Bristol, but working in my dream job in motorcycle racing based at Fort Dunlop and staying in digs during the week. On the 14 December at 1.45pm of that year, I was involved in an event that would change my life forever. I was riding my Honda 750cc motorcycle along Bromford Lane at the junction with Drew's Lane in Birmingham when I was hit and knocked off my bike by a 16 tonne Bedford lorry. I cannot remember anything for the next seven days but learnt later that I was rushed by ambulance to East Birmingham Hospital (now Heartlands) and taken to the Intensive Care Unit (ITU). My family travelled up and got to see me just before I was taken into surgery for an emergency splenectomy.
"I had broken my pelvis in five places, ruptured my spleen, ruptured my urethra, broke both collar bones and a bone in my back, and bruised my lungs, which later collapsed. I was sedated and put on a respirator.
"Because they lived in Bristol, my mother and my then 19 year old girlfriend, now my wife of 42 years, were accommodated in a flat below ITU for the entirety of my stay there.
"Thanks to the sedation, I have no memory of that week in ITU, other than being aware of the smell of the perfume of the nurse who cared for me. I thought I was in a Country Club in Bristol!
"After a few days I decided to pull out my respirator tube, causing a stampede of doctors to my bedside. They decided to leave it disconnected to see how I managed and it was never reconnected.
"I was then moved down to an orthopaedic ward, where I had traction weights over the end of my bed to realign my pelvis. Bed baths and bed pans were the order of the day!
"As I was in hospital for several weeks, I was there throughout Christmas. It was very strange being in a bed on your back in Christmas Day, but the nurses were great.
"Eventually I could get out of bed after many weeks and I was discharged back to Bristol to start my recovery.
"During my stay at Heartlands, I was under the care of several consultants: Mr Rasheed, Consultant Orthopaedic Surgeon; Mr Kennedy, General Surgeon; Mr O'Brien, Consultant Urologist, and Dr Hashemi, a Urological Registrar who is now retired and I still keep in contact with. The care I received from each was second to none. My wife can remember Mr Kennedy coming in on his weekend off to check me, because he was concerned about me after my emergency surgery. That level of care was replicated by the nursing staff and each and every person involved in my care.
"I received the most amazing care from the consultants, surgeons and nurses who saved my life. I would like to thank and hug them all. The NHS was my lifesaver."
Mike was able to return to work in March 1979 and got married in the August of that year. He is now a 67 year old grandfather of two, still rides a motorbike, and runs half marathons. He is thankful to this day to everyone that looked after him and still remembers what they did for him during that time.