Commemorative artwork unveiled at Solihull Hospital
Published on 29/03/2023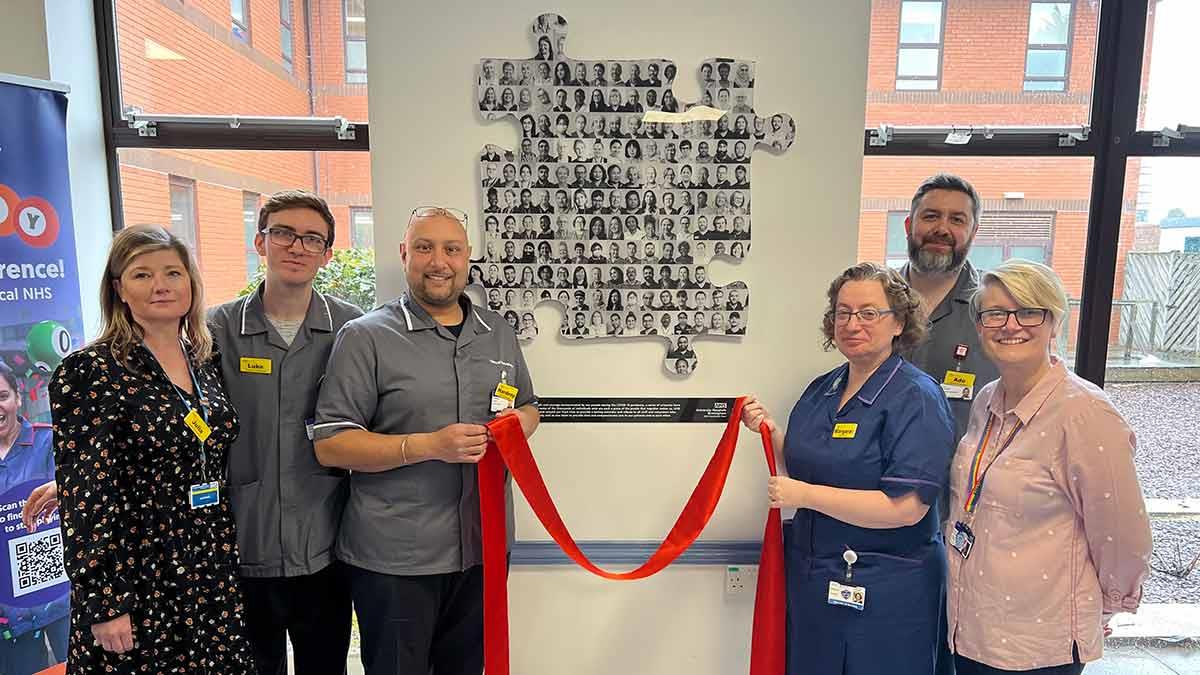 Between May and October last year, we invited colleagues to be photographed for our Commemorative Artwork Project. We are excited to announce that the installation process has now begun and on Wednesday 29 March, the first artwork pieces were unveiled at Solihull Hospital.
The finished artwork, shaped as jigsaw pieces, features staff portraits of over 2000 colleagues across our Trust, who each represent a unique and vital piece of University Hospitals Birmingham NHS Foundation Trust (UHB).
Over the coming weeks, a total of 34 pieces of artwork will be installed across our four hospitals and 11 community locations.
The project group was led by our (now) Chief Nurse, Margaret Garbett, and Communications Director, Fiona Alexander, with representatives from communications, staff experience, photography and graphics.
Margaret Garbett, the originator of the idea, said: "Following on from the George's cross pin badges, we wanted to create some artwork to celebrate and recognise the amazing efforts and vital part that every individual played in keeping our services going through the pandemic.
"Thank you to everyone who got involved in this exciting project; we hope the artwork will remain a piece of history across our hospitals in years to come."
Each installation will be accompanied by a plaque with the following words:
'In honour of the strength and courage demonstrated by our people during the COVID-19 pandemic, a series of artworks have been created featuring some of the thousands of individuals who are each a piece of the puzzle that together makes us, UHB.
'The artworks are displayed around our Trust sites to provide a lasting reminder and tribute to all staff and volunteers who worked selflessly, tirelessly and as one team to provide kind and compassionate care to our patients and to each other.'
If you were photographed as part of this project and would like to receive a digital copy of your photograph, please email jigsawproject@uhb.nhs.uk.
More details about other artwork locations will be shared shortly.
If you have any queries, please contact the Communications team.