Director of Research and Innovation at University Hospitals Birmingham recognised in Honours list
Published on 20/10/2023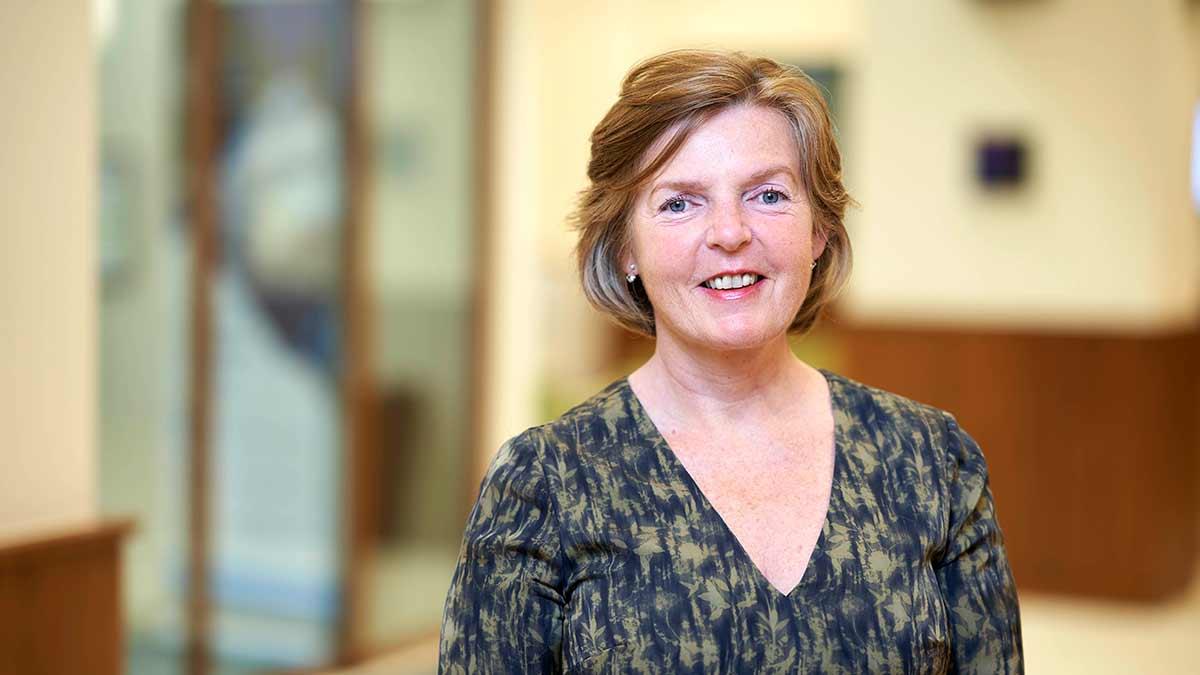 Hilary Fanning, Director of Research and Innovation at University Hospitals Birmingham NHS Foundation Trust (UHB), has been awarded an Honorary MBE for her services to genomic delivery in the NHS.
Hilary is one of just 62 individuals named in the Honorary awards to foreign nationals, which is approved by His Majesty the King. The Honour recognises the impact Hilary has had on genomic delivery not just at UHB, but in the wider West Midlands region and nationally.
Hilary qualified as a registered nurse in 1985, going on to specialise in renal nursing. She has worked in both the public and private health sectors in the UK and Ireland. Hilary moved to UHB in 2002 from St Mary's Hospital Paddington, where she held a joint senior lecturer practitioner post with Thames Valley University, providing senior nurse management for St Mary's Renal Services and leading post-graduate specialist renal nurse education for Northwest Thames.
In her role at UHB, Hilary manages the research and innovation portfolio, overseeing more than £300m research infrastructure and approximately 350 research development and innovation (RD&I) colleagues.
Under Hilary's stewardship, the department supports the full spectrum of research at UHB, including: research business support; research governance and grant preparation for submission for funding though to delivery of clinical trials; and support for generation, evaluation, implementation and audit of AI technologies. In collaboration with UHB's education directorate and University of Birmingham, RD&I supports a portfolio of education and training activities for medical and allied health professionals' academic capacity building.
Her department's innovation portfolio encompasses healthcare data research infrastructure including the HDR UK INSIGHT, HDR UK PIONEER and UHB PATHWAY health data research hubs. These hubs have been nationally recognised for their innovative approaches to the safe and transparent use of health data to drive improvements in patient care and have played a key role in setting out how to meaningfully involve patients and the public in decision-making around health data use for research. 
More recently, she has taken on the role of Programme Director for West Midlands Secure Data Environment (WMSDE), which is hosted by UHB. The purpose of the WMSDE is to bring together health data from across the region and make this available in a safe and secure way to improve health outcomes and reduce inequality. Involving patients and the public in this important initiative to use data to save lives is at the heart of the WMSDE programme. The WMSDE is part of an evolving national network being put in place as part of NHS England's Data for R&D programme.
Hilary has led the successful delivery of a broad range of local, regional and national initiatives. At UHB, she has overseen various projects, including: the reconfiguration of surgical services; the introduction of the 'Hospital at Night' programme; the design and deployment of UHB's electronic health record (PICS) for Outpatients; the design and deployment of UHB's Clinical Portal; and the design and deployment of Optims, the electronic check-in system for outpatients. She also led the whole-site redesign of clinical services in preparation for the move to UHB's £545m Queen Elizabeth Hospital in 2010.
Hilary played a pivotal role in the design and delivery of the West Midlands Regional Cascade Screening Service for Familial Hypercholesterolaemia, and in components of the West Midlands Cancer Alliance Pathology Digitalisation and Transformation programme. She was previously operational director for the highly successful West Midlands Genomic Medicine Centre and continues to support the work of NHS England's Genomics Programme, through a range of connected activities. The "know-how" developed by the West Midlands Genomic Medicine Centre, which supported the delivery of the national 100,000 Whole Genomes Project, has informed UHB's approach to the delivery of the national cancer vaccines programme. UHB was the first research site to open to recruit patients to the Pfizer BioNTech cancer vaccine trial for patients with colorectal cancer.
On receiving the Honorary MBE, Hilary said: "I am extremely grateful to receive such a prestigious Honour. I have dedicated much of my career to ensuring that enabling people and structures to bring benefit to patients is always at the heart of what my teams and I do. This has created opportunities to drive forward innovative approaches to patient care delivery, like the introduction of genomics into mainstream practice. However, I cannot take all the credit. Many of my colleagues have had a huge impact on the research and innovation landscape. I'd like to thank Prof. Dion Morton and Mr Dan Peters for their assistance and support in establishing the West Midlands Genomic Medicine Centre, and the wider RD&I team for their continued commitment to working with me to deliver huge benefits to our patients.
Professor Dame Sue Hill, Chief Scientific Officer for England and Senior Responsible Officer for Genomics in NHS England, said: "I am delighted Hilary has received this honour, which reflects her unwavering commitment to research and innovation in the broadest sense for patient benefit and improving outcomes. This was, and is, exemplified in her leadership and contribution to the 100,000 Genomes Project and the ongoing transformation supporting the adoption of advanced genomic technologies into healthcare that continues to benefit many people in the West Midlands and beyond."