Man hit by HGV discharged after 3 months
Published on 30/05/2022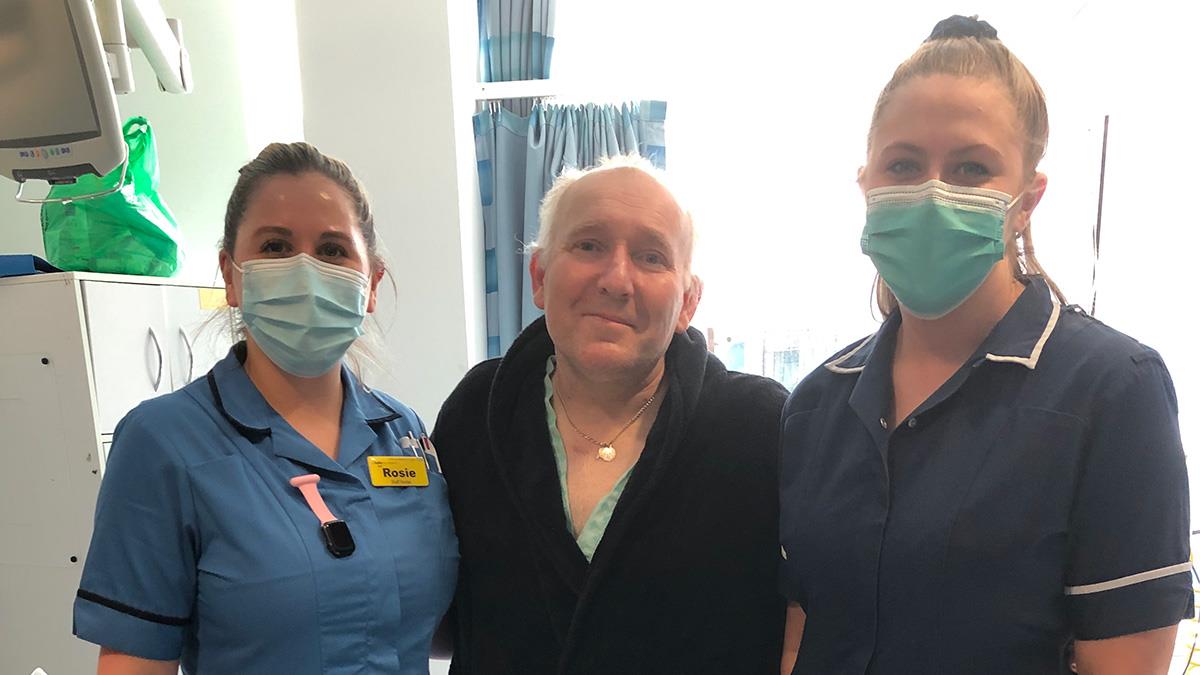 A man who sustained life-threatening injuries after being hit by an articulated lorry in January was discharged from hospital in April after three months.
Krzysztof Wiszowaty was hit by the HGV on 17 January 2022 receiving multiple injuries that would usually be devastating, leading to his lengthy stay in hospital with specialists battling to save his life.
Following air ambulance and medical emergency response team assistance, Mr Wiszowaty was taken by road ambulance to the Major Trauma Unit at the Queen Elizabeth Hospital Birmingham. Here he spent almost two weeks in an induced coma to help the swelling on his brain after suffering a subarachnoid haemorrhage where there is bleeding surrounding the brain.
Mr Wiszowaty, 50, from Rzeszow in Poland was in Warwickshire for work when the "code red" incident (the highest level of trauma alert) took place, receiving further massive injuries to his kidneys and hips, and in need of a significant skin graft for his injuries.
Rehabilitation began on the Major Trauma Unit's Ward 412 as clinicians kept his wife, Theresa, who was at home in Poland when the incident occurred, updated with the latest on his treatment.
A multi-disciplinary team including nurses, medics, physiotherapists, occupational therapists, speech and language therapists and dietitians, then supported Mr Wiszowaty to start major trauma rehabilitation by carefully encouraging him off the bed after three weeks, to then start walking up and down the ward with support, and on the road to recovery.
Major trauma consultant Mr Alastair Marsh said: "From the extent of his injuries at the time we received Mr Wiszowaty into the major trauma unit, we did assess them as potentially devastating and life-limiting, but with the skill of an excellent team of major trauma specialists and with support from an expert multi-disciplinary team, we are very happy to get Krzysztof home to his family."
Speaking the day before his discharge, Mr Wiszowaty said:
"I don't remember much about the accident, it went like a flash. I thought I was finished, it's a miracle I am alive. I can speak, I can walk and I have no pain.
"I've been all over the world with work, and this is a great country. Everyone is super, and nothing is a problem. The hospital is clean, the staff are professional and all are very nice people. They show real passion in what they do.
"I'm especially thankful to Michelle, Josh and Conner, who helped me during my hospital stay. I couldn't even bend down when I started my recovery, and now I am perfect – totally back to normal."
Nurse Michelle Showell said caring for Mr Wiszowaty was "an absolute pleasure", adding:
"At first he was very confused, with limited English communicating was at times difficult, putting myself in his shoes I can even imagine his world was quite scary. We all worked together as a united team to help and support Krzystof through his journey to full health.
"When Krzystof started to heal well his focus turned to home, he would walk up and down the ward speaking to his wife on the phone.
"My son Conor who also works on Ward 412, had a lovely bond with Krzystof who would come and find us when we were on shift to tell us about his day and about any concerns he may have been feeling, or just to have a chat with us about how things were going with the plan to get him home.
"When he could Conor would sit and talk about football players with Krzystof to help his English skills, and Krzystof was always so happy when he would tell Conor all about the new football star he had learned about in English.
"Krzystof touched the hearts of every member of staff on Ward 412, it was so amazing to see him walk out from the ward and know he was going home to his beloved wife and family, a happy tear was shed that day and if ever there was a success story to celebrate it is definitely this one. Well done Ward 412, an amazing team and an amazing outcome which makes me burst with pride!"
Mr Wiszowaty, who has two sons aged 23 and 27 who live in Italy, added: "I can't wait to see my wife, sons and home, but I will come back to see everyone that helped me and thank them for all that they did for me."