Myeloma UK gives excellence awards to all four UHB hospitals
Published on 10/11/2022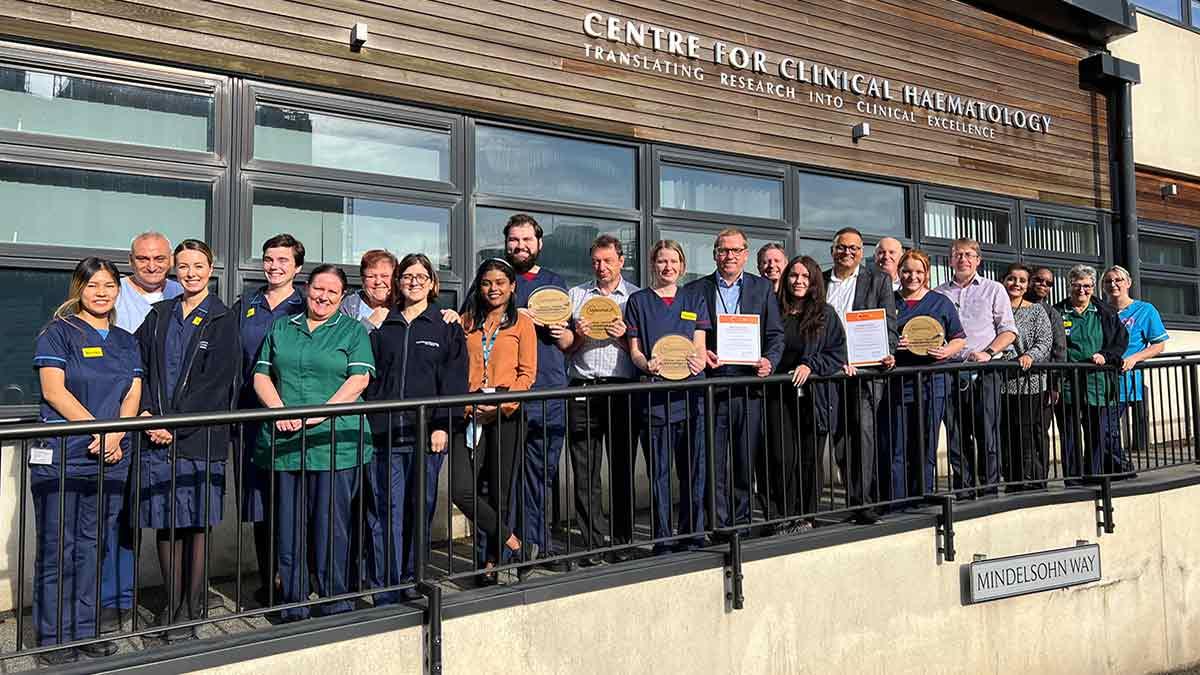 All four of University Hospitals Birmingham's hospitals have received excellence awards from a cancer charity in recognition of their outstanding care and dedication to patients with myeloma.
Good Hope Hospital, Heartlands Hospital, Queen Elizabeth Hospital Birmingham and Solihull Hospital have all received the Myeloma UK Clinical Service Excellence Programme (CSEP) Award.
Myeloma UK is charity dedicated to improving the standards of treatment and care for myeloma patients through research, education and raising awareness. Myeloma is an incurable blood cancer which claims the lives of 3,000 people in the UK each year.
The award recognises commitment to raising the bar for treatment and providing compassionate and personalised care to those with myeloma.
In November, Myeloma UK presented the four awards to the teams, and staff were praised for their efforts to improve patient quality of life and their eagerness to adapt and truly listen to their needs.
Jess Turner, Clinical Practice Services Programme Manager at Myeloma UK, said: "This is a complete first – we've never presented this award to every single hospital in the same NHS trust before.
"To be able to do so on our charity's 25th anniversary has made this occasion even more special.
"We were especially impressed by the hospitals' willingness to work closely together and make sure no patient is left behind – no matter where they live. For example, all four hospitals attend monthly regional myeloma meetings, where complex cases are discussed. These meetings have led to the creation of a referral clinic for the entirety of the West Midlands, to give second opinions and support patients on an even wider scale."
Prof. Guy Pratt, Consultant Haematologist at Queen Elizabeth Hospital Birmingham, said: "It is a privilege to work so closely with Myeloma UK, whose support enables us to deliver the best care that we can for patients with myeloma and related disorders."
Dr Bhuvan Kishore, Consultant Haematologist at Heartlands Hospital, added: "We encourage our patients to be equal partners in their healthcare journey. We are also looking into care which prevents myeloma from taking over a patient's life."
Charlotte Coldrick, Myeloma Cancer Nurse Specialist at Heartlands and Solihull Hospitals, said: "It is such an honour to receive these awards. It makes me feel proud of the whole team who work so hard to support patients every day."
What our patients say:
Marie Hall, from King's Norton, was diagnosed with myeloma in October 2021 and has been treated at Queen Elizabeth Hospital Birmingham ever since.
She said: "The consultants, the nurses, everyone makes it their business not just to take care of you, but the whole family. You don't know what support is out there or what you need. They're thinking for you and taking that level of worry away."
Patient Michael Sadler, 68, from Shirley, has also praised staff for the care that he has received at Solihull Hospital over the last year.
"They're all brilliant," said Michael. "The nurses work really hard and they're really caring. You get personal care at Solihull. They know you by name and they really look after me – especially [Myeloma Cancer Nurse Specialist] Charlotte Coldrick. Whenever I've had issues, she's got straight back to me."
Fellow patient Raymond Stokes, 76 from Solihull, who has been receiving care at Solihull Hospital since his cancer became active eight months ago, also commented: "My treatment has been absolutely excellent, I couldn't fault it. They've explained everything to me. The nurses, the doctors, they're all super."