New Heartlands Treatment Centre opens its doors to patients
Published on 10/01/2023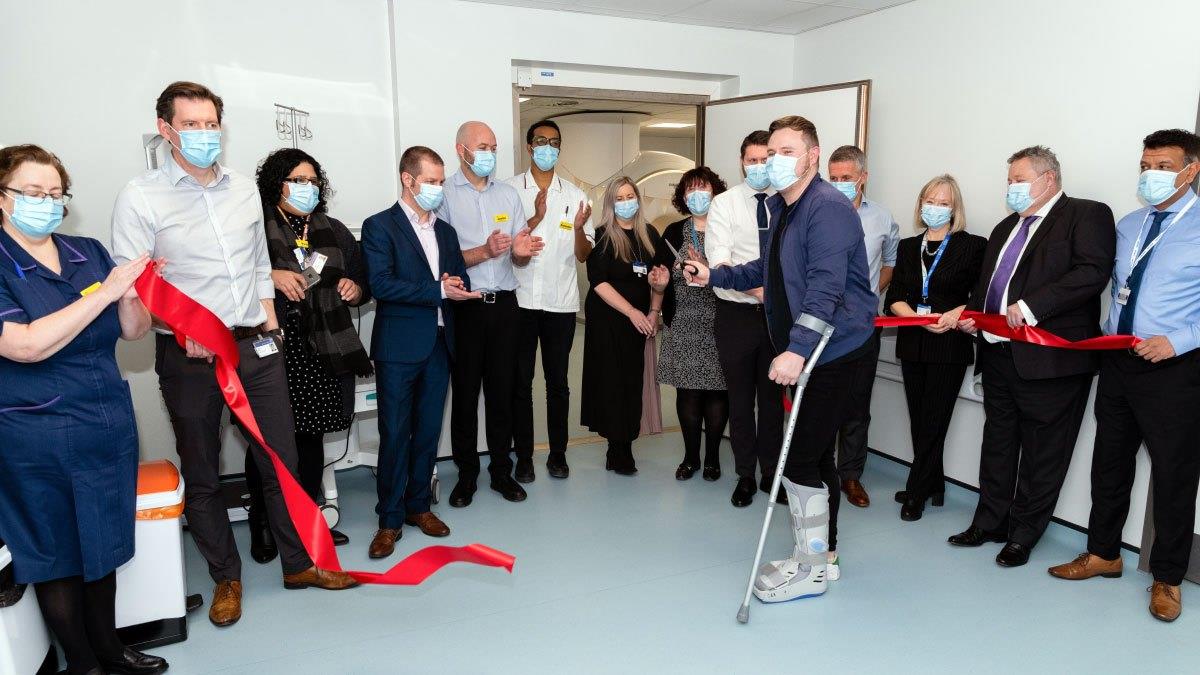 The brand new £97million Heartlands Treatment Centre (HTC) has opened its doors and treated its first ever patient.
After several years of planning, and two years of construction, patients will now benefit from the cutting-edge technology and spacious environment offered at Heartlands Hospital in East Birmingham.
The centre's first patient was Richard Mullen from Walmley, who had an MRI scan in a state-of-the-art scanner, funded by the hospital's official charity. Cutting a ribbon to mark the occasion, Richard said: "I was referred to the new Heartlands Treatment Centre after an incident at a trampoline park resulting in me hurting my ankle.
"It feels good to be the first person in the new centre here at Heartlands Hospital – I'm honoured!"
After being delivered on time and on budget, the keys to the HTC were officially handed over by Kier Construction in November 2022. Since then, University Hospitals Birmingham NHS Foundation Trust (UHB) has turned the building into a fully-functioning clinical space, which will treat up to 1,500 patients a day.
The HTC is the first large-scale capital investment at Heartlands Hospital since 2008. It will offer a 'one-stop-shop' for patients as a result of bringing a range of services under one roof, meaning more treatments, for more patients, delivered more efficiently. The new centre includes diagnostics, day case procedures, endoscopy, audiology, outpatients, therapies and imaging services. With a footprint of over 18,000m2, the impressive building stands four storeys high, with 149 tonnes of steel and 12.5 miles of pipework inside. State-of-the-art technology has been installed including brand new theatre suites and advanced imaging equipment.
Jonathan Brotherton, Interim Chief Executive at UHB, said: "Today marks the culmination of many years of planning and hard work and I'd like to thank all the staff who have made the Heartlands Treatment Centre a reality. 
"To be able to offer our patients this superb new space and the very best in new technology, alongside the excellent clinical skills and expertise of our staff, is what we have been working towards.
"We hope many patients will benefit from the HTC for decades to come, and our staff enjoy working in the spacious, bright and purpose-built environment they deserve."
The majority of patients will be seen in the new outpatients department, which features multi-language and disabled-friendly self check-in kiosks for patients, along with wayfinding technology on each floor. Patients can wait for their appointments in the large, light-filled areas.
There are wheelchair-friendly toilets on every level, as well as a Changing Places toilet for patients and staff with complex disabilities, plus baby changing and feeding facilities. All clinical areas have been designed with the patient as the focus, including individual bespoke patient changing and private preparation rooms.
UHB Charity's Director of Fundraising, Charlotte Schofield said, "We are proud to work with UHB to bring Heartlands Treatment Centre to Heartlands Hospital. Our aim as a charity is to go 'over and above' what the NHS can provide for patients and their families. With the help of our fantastic fundraisers, we have managed to fund one of two MRI scanners; not only will this help increase the number of patients being seen but it will also help reduce waiting times.
"UHB Charity is currently fundraising to decorate the MRI suite, treatment and consultation rooms with comforting images to create a more relaxing and calming environment for patients and their families, as well as creating a more attractive space for staff."
Funded by the Department of Health and Social Care, Steve Barclay, Health and Social Care Secretary, said: "As part of our commitment to upgrade hospitals across the country, 1,500 patients a day in Birmingham will benefit from state-of-the-art new facilities and technologies as the new Heartlands Treatment Centre opens its doors today.
"The centre brings a range of services under one roof – from audiology to cardiology – meaning more patients can be treated more efficiently, as well as new features including multi-language and disabled-friendly self-check-in kiosks for patients, and large, light-filled waiting areas, brand new theatre suites and advanced imaging equipment.
"This is backed by over £97 million of government funding and will upgrade outdated equipment, improving patient care and reducing waiting times."
Please visit the HTC website for further information about the centre: