New Oncology Treatment Suite and Infusion Suite open
Published on 13/04/2022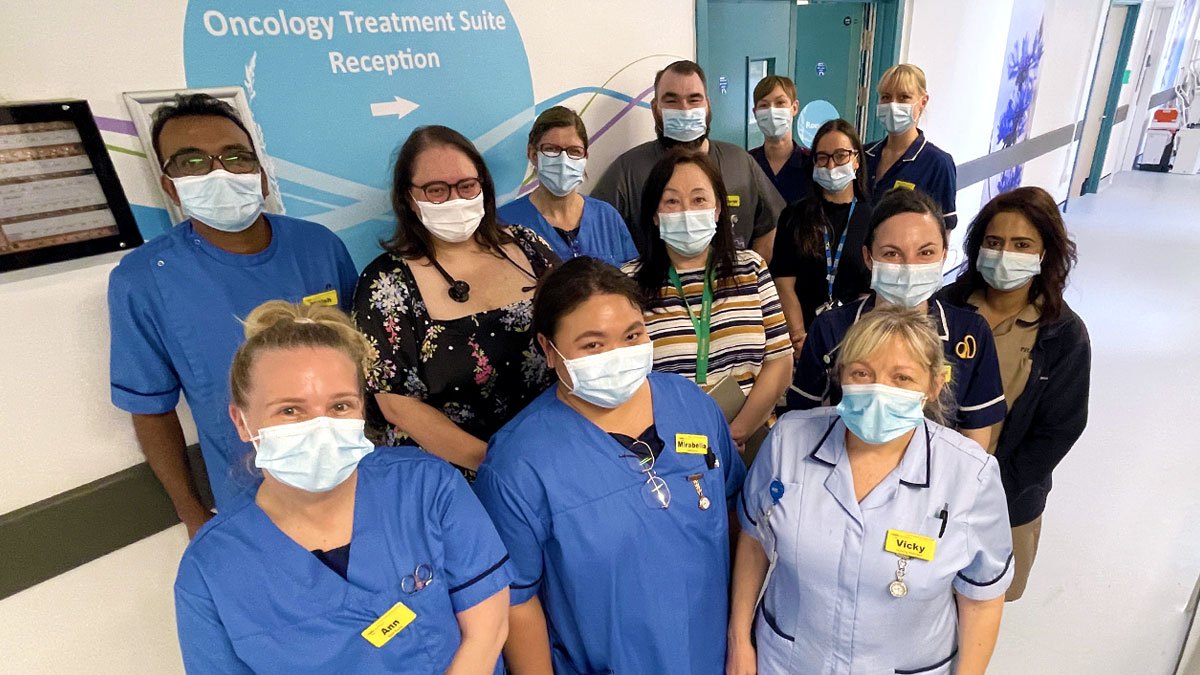 It has been one month since Queen Elizabeth Hospital Birmingham's Oncology Treatment Unit moved to a newly renovated suite, allowing specialists to provide anti-cancer treatment such as immunotherapy and chemotherapy for to up to 100 patients each day.
The Infusions Suite, which provides medications intravenously for a huge range of conditions, also moved to a new home.
Both units opened on Monday 14 March 2022 on the first floor in East Block, Heritage Building. The new Oncology Treatment Suite (as it was renamed) found its permanent home on East 1b where it will continue to provide patients vital treatment for their cancer. The Infusions Suite was relocated on the other side of East Block, in East 1a.
The Oncology Treatment Suite was originally relocated to the lower ground floor of East Block during the early part of the pandemic. This allowed the Oncology team to safely maintain as much immunotherapy and chemotherapy as possible for patients. Now the new suite has been designed specifically with the needs of patients in mind.
Patients aged 16 – 25 also now have a separate and tailored area within the Oncology Treatment Suite, providing a more relaxed environment for younger people.
Oncology Treatment Suite Manager, Andrea Fernyhough, said: "We're very proud of the work that we do, and we're even more proud of the work that has gone into creating this new unit for our patients. We have always aimed to provide the highest possible standard of care to our patients, even throughout the difficulties of the pandemic. The new unit will help us to deliver the best possible outcomes for patients and we hope they will feel more at ease in the new unit through what is a difficult and uncertain time for them."
Deputy Director of Nursing for Division 5, Emma Steele, said: "A huge thank you must go to the contractors at Tilbury Douglas who have worked hard to complete the unit, alongside our Estates team, Facilities, Pharmacy, Resuscitation Service, Medical Engineering, IT Services, Logistics and very many more. We are also very grateful to University Hospitals Birmingham Charity who have supported us by funding additional wall art and furniture to make the space even more appealing."
The unit provides day-case chemotherapy and supportive treatments, a dedicated young persons' space, a PICC line service, and receives new patients for assessment.
Lesley Golby, Manager for the Infusions Suite is similarly impressed with the new facilities for patients undergoing infusions for their condition: "The new space will help to make our patients feel more at home as they receive important medications that help to keep them well. I'm really proud of my amazing team who have worked so hard to get us here, the new unit will be a much more comfortable space for both patients and the team."
One of the first patients for the new Infusions Suite, Gail Cartwright, said: "I've been coming for infusions for 12 years, now I attend every three weeks and the staff have always been brilliant. The new unit is much brighter and nicer than the old unit."
Another patient, Barbara Moore, only recently started attending the infusion suite. Ms Moore said: "The new ward is lovely, particularly with all the sunshine flooding in, it is much nicer. I have to come once a month – where would we be without it?"
Any patients looking for both new units should enter via the East Entrance of the Heritage Building (formerly the East Block Day Unit entrance). Both units are found on the first floor.