Nurses arrange stunning patient wedding
Published on 03/03/2023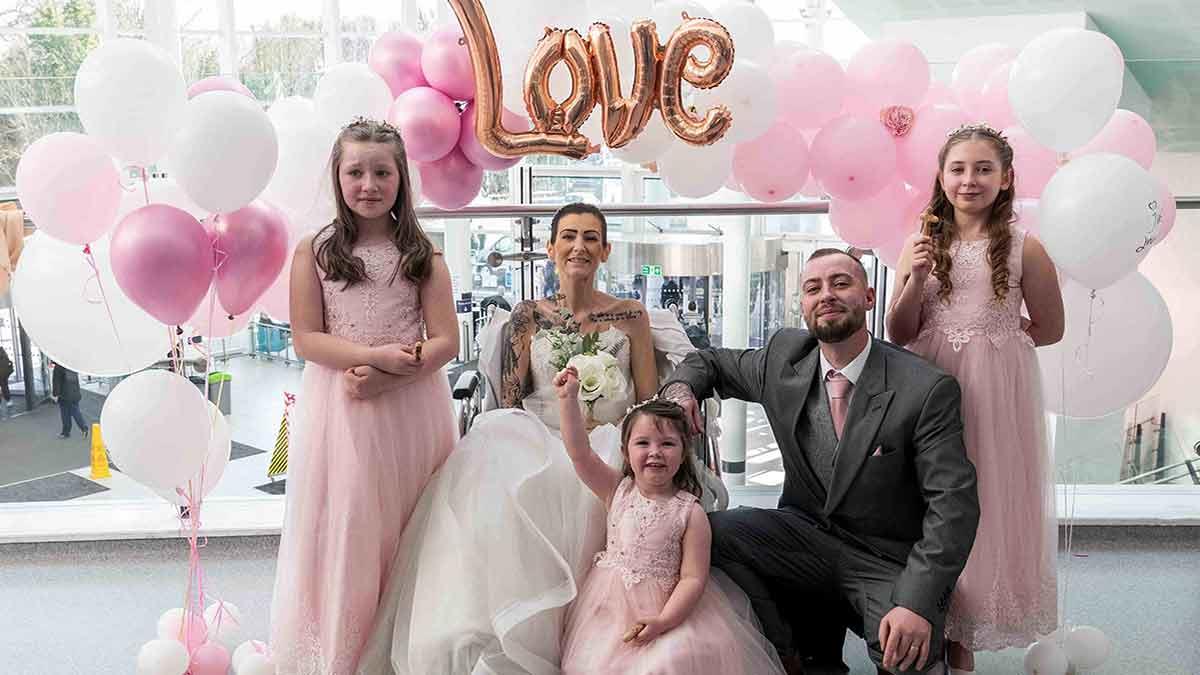 Nurses at Queen Elizabeth Hospital Birmingham (QEHB) arranged a stunning wedding in just three days for a patient with a terminal cancer.
The wedding, between Lacey O'Driscoll and Kyle Page took place in February, after Kyle proposed to his partner of 5 years at QEHB, on Valentine's Day.
The happy couple share three children, Daisy 10, Olivia 9, and Kyla 3, who all performed their bridesmaids' duty with perfection during the wedding.
Upper GI clinical nurse specialists, supported by the Ward 625 team, sourced a gorgeous dress and sharp tailoring, delicious cakes, and arranged all the formalities for the family to celebrate the precious moment together.
Lacey O'Driscoll, 34 from Northfield, Birmingham, was diagnosed with a stomach cancer at the start of the year. Sadly, it was found to not be treatable.
Now Mrs Page (nee O'Driscoll), Lacey thanked the nursing team for making it happen, she said: "The nurses have done an amazing job and I'm so grateful for the beautiful day they were able to put together in such as short amount of time. Thank you."
Leading the arrangements, Macmillan Clinical Nurse Specialist, Rachel Ede, said: "When Kyle proposed, we wanted Lacey and Kyle both to have the most special day, surrounded by their lovely children and family.
"We were able to leap into action as a team of upper GI clinical nurse specialists along with the Ward 625 team to source a stunning dress, in which Lacey looked just beautiful, suit fittings for the groom who looked dashing, and we arranged the registrar to marry them - also arranging a blessing from the hospital chaplain. Lacey's family and friends arranged the gorgeous flowers and balloons to make it that much more special."
Fay Prince, Upper GI clinical nurse specialist, said: "There have been lots of smiles, laughter and tears as we worked to make sure Lacey's wedding goes off without a hitch. It is amazing to see that so many came together to give Lacey, Kyle and family these special moments to treasure forever."
"At the last minute we remembered we had forgotten the confetti, and in a flurry we found some coloured paper and a hole punch, making our own confetti to give Lacey and Kyle a little bit of extra wedding magic. We're so happy to have been able to make this happen for Lacey and Kyle."
Chief Executive, Jonathan Brotherton said: "Well done to these amazing colleagues who always pull out all the stops for our patients, it makes me so proud that our teams are able to do such amazing things like this, which, even if given six month's planning time, is a lot to arrange.
"To Lacey and Kyle, from our UHB family to yours, congratulations on your marriage, we hope to have helped you make some very special and treasured memories and we all wish you and your family all the very best."
The Trust and family thank June Peony Bridal Couture of Islington Row Middleway, Birmingham, The Dressing Rooms Bridal of Manor Lane, Halesowen, and M&S Simply Food, High St, Harborne. Their very kind and generous support is greatly appreciated.