Staff get surprise visit from recovering coma patient
Published on 01/12/2022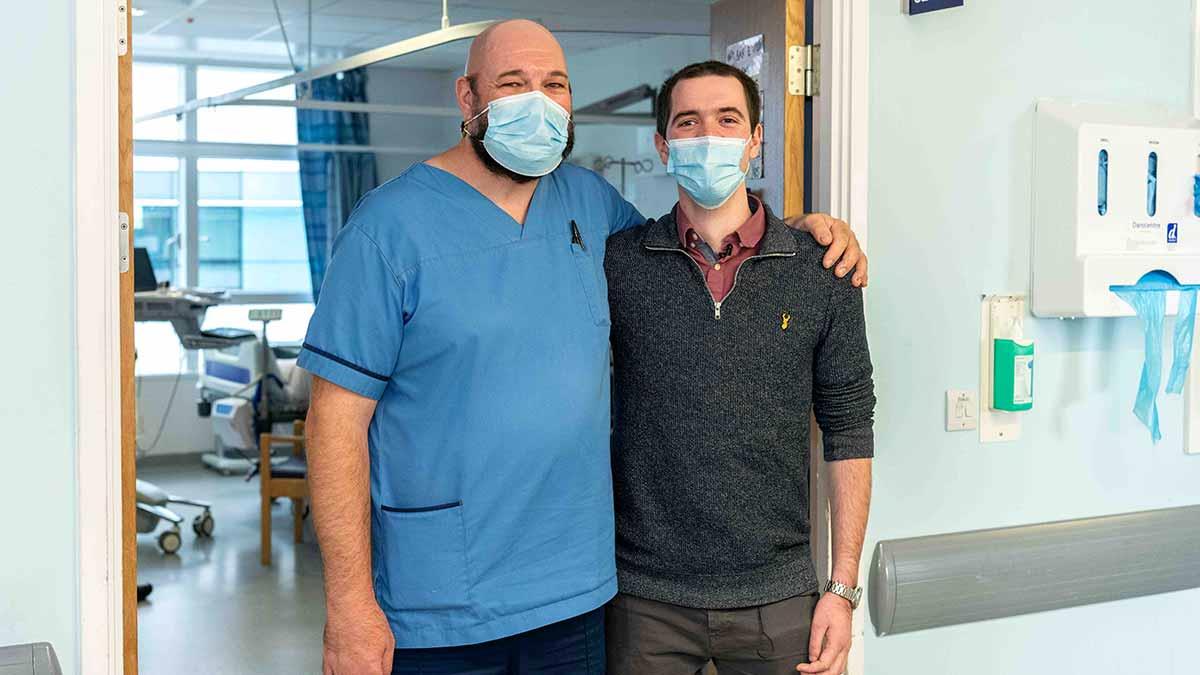 Staff at Queen Elizabeth Hospital Birmingham (QEHB) got a special surprise when a patient they thought might never walk and talk again paid them a visit.
Earlier this year, Aodhan Cunningham, 21, was involved in a nasty road traffic accident that left him in a coma. Last week he walked onto the ward to give the Neurology team, and one nurse in particular, a special thank you.
While he was under the care of ward 409 at QEHB, the team and his family were unsure if Aodhan would survive.
After spending nearly three months at QEHB, and a further four-and-a-half months undergoing rehabilitation in a nearby hospital, Aodhan was able to surprise the team by walking on to the ward and saying a personal thank you.
One nurse in particular stood out to the family for going above and beyond.
Described by Aodhan's mum Sinead as a "gentle giant", Frazer, a staff nurse, was at Aodhan's bedside helping him back to recovery.
Sinead said: "I could hear him speak, not only to Aodhan, but all the other men on the ward, aware or in a coma, when he was caring for them in the most gentle and tender manner.
"Frazer got Aodhan through a time we didn't think he would survive, and got my family through a time we weren't confident we could either."
Sinead and Aodhan's dad Alan would travel to Birmingham from their home in France every week to see Aodhan and regularly spoke with the care team for updates.
Sinead added: "As an ex-NHS nurse and midwife I understand what good care looks like. I know that it takes a special kind of person to work as a nurse in neurology, and for me Frazer was extra special."
Aodhan was in a coma for nine weeks, coming out of it just in time for his 21st birthday. It was a further three weeks before he was well enough to be transferred out for rehabilitation.
When they last saw him, Aodhan was unable to walk and only able to say a few words, so Frazer and the team were thrilled to see him walk on to the ward and chat with them.
Frazer took the time to show Aodhan where he had been staying on the ward and the two talked about their plans for the future.
Frazer said: "It's great to see Aodhan doing so amazing. It's nice that he and Sinead took the time to come and say thank you. To me, I was just doing my job, but it's heart warming to know I made a difference, and that simple 'thank you' means more than people know."
Aodhan and his family will be spending Christmas together at their home in France. Aodhan is considering returning to his studies at university in Birmingham.