UHB first to start mRNA cancer vaccine trial for colorectal cancer
Published on 02/05/2023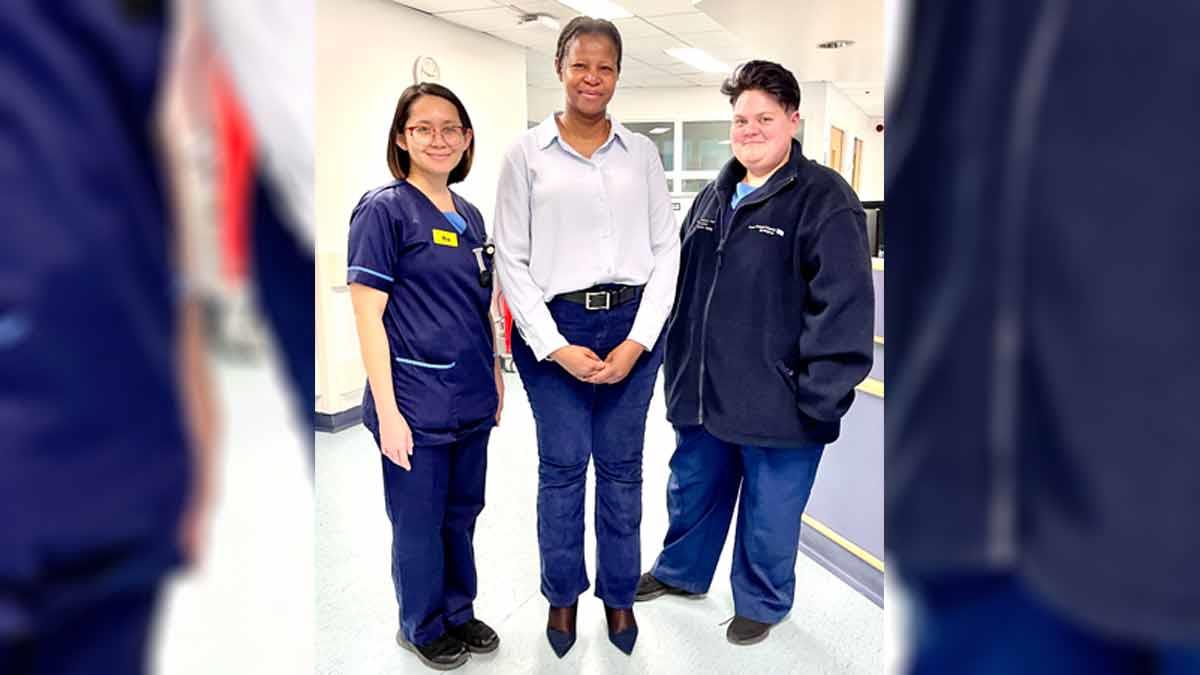 University Hospitals Birmingham NHS Foundation Trust (UHB) is the first site in the UK to launch the BioNTech Messenger RNA (mRNA) cancer vaccines trial which will aim to recruit 10,000 people across the UK.
Launching within the National Institute for Health Research (NIHR) Clinical Research Facility (CRF) at Queen Elizabeth Hospital Birmingham, mRNA vaccines are one of the most exciting experimental developments to come out of the COVID-19 pandemic - with strong indications that they could become powerful anti-cancer treatments.
Traditionally, vaccines use dead or weakened viruses to stimulate the immune system into recognising or creating harmless antibodies, so when exposed to the real virus, the body is better placed to fend off an overwhelming infection. mRNA is a genetic material that copies instructions found in DNA, using them to make proteins that carry out functions in the body.
Efficiency and speed are part of the appeal of mRNA vaccines. The manufacture of traditional inactivated virus vaccines takes months as scientists are required to grow these on a huge scale, inactivate the virus, and then formulate it to administer in the general population. mRNA vaccine manufacture only requires the right sequence of genetic instructions.
At UHB, this mRNA trial aims to recruit patients with high risk stage II and stage III colorectal cancers where there is no standard of care treatment to offer the patient following surgery. Each mRNA vaccine delivered will be personalised to the individual patient.
Around 42,900 people are diagnosed with colorectal cancers in the UK each year. It is the 4th most common cancer in the UK. In Birmingham and Solihull alone, almost 700 people are diagnosed with a colorectal cancer each year.
Dr Victoria Kunene, Consultant Oncologist and Principal Investigator for the trial at UHB, said: "I am really very excited that we have been able to lead the way in setting up this arm of the trial, and am looking forward to being part of the wider vaccine program at UHB.
"We are proud to have an impressive team aptly capable of safely delivering these studies here in the West Midlands, and it is a real pleasure to be part of this transformational trial."
Prof Simon Ball, Chief Medical Officer, said: "A diagnosis of cancer is devastating for patients and their families; this trial represents a monumental step forward in providing not just hope, but a real promise of delivering better outcomes for patients with colorectal cancer, for whom there is not always a standard of care treatment available following surgery.
"Our research teams, supported by the NIHR, have a proven, distinguished track record in delivering vital trials that make significant contributions to medical and scientific discovery with the patient at the very heart; we're immensely proud to be able to play a strong part in this here in the West Midlands."
Participants randomised to receive the study treatment will receive 15 treatments of over one year, and be followed up for at least 36 months. The treatment is, in essence, a personalised medicine for post-operative patients with high risk stage II/III colorectal cancer, for whom there is no standard of care treatment and involves the development and testing of an individualised cancer treatment called RO7198457.
UHB is the first site open for this trial – a multi-site, open-label, Phase II, randomized, controlled trial to compare the efficacy of RO7198457, versus watchful waiting in resected, Stage II (high risk) and Stage III colorectal cancer patients who are ctDNA positive following resection.
'Individualised' means that the treatment is made individually for each participant according to their unique cancer. This is then tested for mutations which create a unique fingerprint. The goal of an individualised cancer treatment approach is to help train the immune system to recognise and attack cancer cells.
Participants who are randomised to the observation group will be followed up for at least 48 months and visit the research site every three months. Care is provided to ensure safety during trial participation, including an informed consenting process, regular follow up where biomarkers and all reported outcomes are collected and analysed.