UHB recognised at nursing awards for authentic student-led learning
Published on 01/06/2022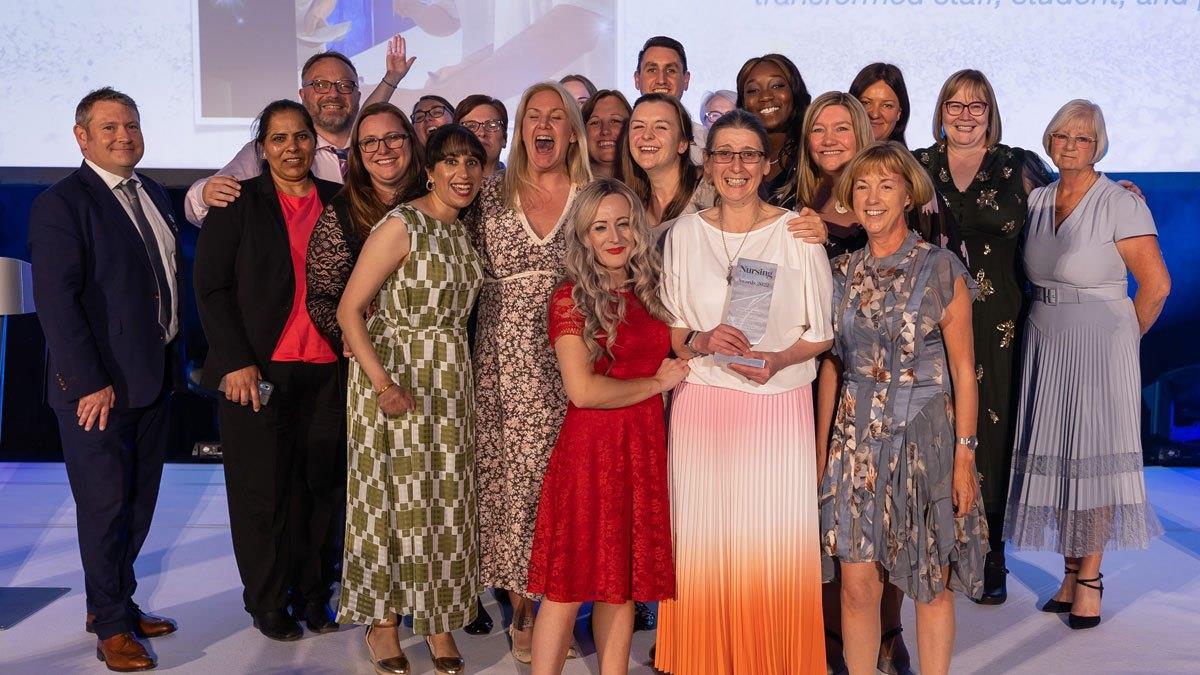 The Student-Led Clinical Learning Environment (SLCLE) on Ward 12 at Solihull Hospital, along with the Trust's Practice Placement Team won an award at the Student Nursing Times Awards 2022.
They were crowned Student Placement of the Year: Hospital, at the award ceremony on Friday 27 May 2022.
The Student Nursing Times Awards celebrates the very best in nurse education, recognises and rewards brilliant educational establishments and honours those who are committed to developing new nursing talent as mentors, lecturers and providers of placements.
In its eleventh year, the Student Nursing Times Awards brought together nearly 500 student nurses, education providers and mentors, and following a rigorous judging process with an independent panel of judges, the SLCLE was recognised as the student placement of the year.
The judges described the SLCLE as an "authentic, bespoke student-led learning initiative with dedicated staff support which was co-produced using an interdisciplinary student group".
They went on to say: "It has transformed staff, student and patient experience."
Carol Willis, who is Head of Pre-Registration and was in attendance of the awards, said: "It has been a huge team effort. I feel extremely privileged to have been part of developing this innovative model of authentic interdisciplinary practice learning.
"Seeing the personal growth of the students, but also the development of the ward team, and the impact it has had on patient care, has been truly amazing."
The SLCLE was introduced to Ward 12 at Solihull in November 2021 by our School of Nursing, Allied Health Professionals (AHPs) and Midwifery.
It saw a surgical ward dramatically change the way it works, with two of its bays being run by students, making it the first of its kind within the University Hospitals Birmingham NHS Foundation Trust (UHB), and in the West Midlands.
The SLCLE provides a unique opportunity, where students will get hands-on, first-hand experience in running a ward and caring for its patients.
Tim Jones, Chief Innovation Officer, said: "I would like to congratulate the team on winning the Student Nursing Times award. It is a massive achievement and a testament to all the hard work the team has put in to making this initiative such a success."
The school will be rolling more SLCLEs across the Trust's other hospital sites, the next of which will be at Good Hope Hospital in September 2022.